OK…now we are at a current post.  For the moment, I'm going to stop going back and adding posts that are 2-3 (or more) years old.  So many of the photos are missing now that I don't know what it was I was doing at the time when it says "Saxon weave" since I did a half dozen of them.  So what I'm going to do is post pictures of stuff I've done without all the blah-blah-blah that went with it them, but just grouping them together into styles with a brief description.  Now that I look at it, I did a lot of weaving in the last five years.
Skip hole weave
I really like this one.  I believe that it's period (I'll have to find the documentation again).  Super easy and looks great.  It was a test piece so it's only a couple yards.
Threaded in Weaves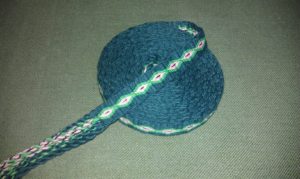 This one I did as a commission in 2012.  Unfortunately, she never picked it up and never paid me for it.
BUNNIES!  I made this for the Shire of Shittimwoode to put in their prize box.  This was from the Robin & Russ Handweavers' book.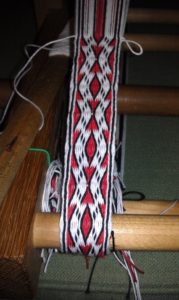 This pattern I think I found on the Loomy Bin.
  Variation of the Loomy Bin pattern
 From EQoS on Deviant Art
I love this pattern.  
I'm not kidding.  
Seriously.  
I really love this pattern.  
Really…really….  
 Gorgeous in RED!
I love it even more with really fine thread.
Simplified version
And another one…
And another…
Yet another version…
  I think I made this one up.  Meh.
Anchors Aweigh!  This was for a high school buddy to be made into suspenders.
I drafted this "Tyr" pattern for Tyrssen of the Midrealm.  He was a middle school friend who I discovered was also in the SCA. 😀
Super wide band for Molly McGurn!  This was also my design, although to be honest, I kind of strung this up at random.
I think this one got donated to the Barony…An Tir and Aquaterra colors.
  A better pattern of An Tir and AQ colors.
  Another with An Tir colors only
Prototype of a surfboard loom for teaching a class.  Mostly worked.
So I made a whole stack of surfboards for the class!
Got some six-hole cards.  Mostly didn't work on the inkle loom.  I bet they'd work fine on a backstrap or Osburg type loom with a much longer working space.  I'll have to try that sometime.
Egyptian Diagonals
This was assigned to me as a challenge by Master Fiacha.  This is super ugly, but I learned how the colors moved with the cards.
This piece was what I worked on after a failed attempt at a Dragon Head weave.  I gave up on the dragon heads and made more Egyptian Diagonals instead.  I love the dark blue and silver-grey together.
Ram's Horn Pattern
Not a period design, but very cool-looking and popular among the Historic Tablet Weaving folks!
  Small test piece….just a bookmark.
Brocade Card Weaving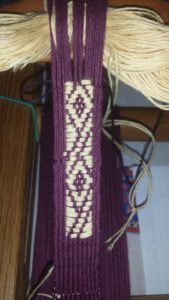 Didn't like doing it.  That's as far as I got before I decided it wasn't for me.
Saxon Weaves
This next group has a few documentable pieces and are all double-sided patterns.  I want to get back to making more of these now that I have translated the GTT patterns onto a more easily-accessible Excel spreadsheet.
Saxon weave, 5-6th century, Cambridge.
Anglo-Saxon #8
Anglo Saxon 6a:  
  Anglo-Saxon 6d
Tried using fishing spinners….with little success.
Snartemo weave
6th century Norwegian and really easy to make.  25 turns forward, 25 turns back.
Birka weaves
Birka 6 
Applesies & Fox Noses
Still working on this one.  It's also made of really fine thread and I've been working on it for about a year.