I recently got a question about what tools and materials you need to get started weaving. I thought I had done a video (I did…sort of) or a blog post (a long time ago), so I figured it was time for an update. I have learned a lot in the last couple of years and found some new tricks and materials, so let's start at the beginning.
This is one of those hobbies that doesn't require a great deal of expensive tools and machinery to get started. There are few things that you need, and depending on your budget, you can make some economical choices or go hog wild and get All The Things!
The two things that you definitely need are cards and thread.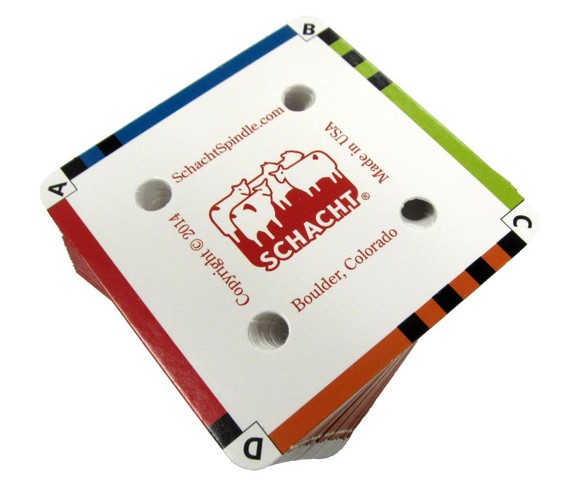 The cards can be purchased from most spinning and weaving stores, or you can find them on Amazon. I have an Amazon storefront that will give me a small commission for referrals–this is the link, which is also in the video description. There are a few different brands of cards to choose from. I have Schacht cards, which I quite like, but there are some cheaper options, also. There may also be some made from wood, although I find that many of the wood cards are a bit thick for my taste–the cardboard and 3D printed ones that are between .5mm and 1mm are the best size.
You can also get 3D printed cards from sellers on Etsy. Rowanberry Jam had some 3D printed cards you could buy, but appears to not be selling on Etsy at this time. I will keep looking for where Lidiya may have wandered off to…. In the meantime, there are some 3D printing patterns available on Thingiverse–so if you or someone you know has a 3D printer, you can print your own. I have quite a few and I love them!
You can also make the cards from cardstock–something like cereal box thickness. If you have a penchant for crafting, have the time and patience, or some fancy scrapbooking tools to help speed up the process, you may enjoy making your own. Round the corners of those homemade cards so they turn easier and avoid snagging on the threads as you weave. I have made some from granola bar boxes, from file folders, and gift boxes. Many people recommend making them from playing cards! Square them off, round the corners, and punch holes for the yarn.
Next you will need yarn. I have a preference for cotton–in the Medieval period, it was much more common to see wool, linen, and silk (and combinations of these), but I tend to use what is easily accessible and affordable. If you are just starting out, you may want to get some inexpensive stuff to start with.
Crochet cotton is some of the most accessible, inexpensive, and colorful options out there. Every craft store carries it; Michael's carries Aunt Lydia's Classic 10 which is perfect for this kind of weaving. It's a #0 lace weight yarn, comes in 350-400 yard balls (varies by color), and comes in around 45 different colors. The ad I just looked at listed them at $3.69 per ball, so for under $10, you can get yarn enough for a few projects to help you decide if this craft is right for you. Choose 2 or 3 colors, using a variety of light and dark colors. Maybe choose the colors of your favorite sports team, your alma mater, your heraldry, or the heraldry of your favorite nation's flag.
Another yarn option, which is a bit more expensive and more difficult to acquire, is either Maysville Carpet Warp, an 8/4 cotton; or Maurice Brassard 8/2 cotton. From the images, they look almost identical, but from this close-up of the yarn, side by side, you can see the Maysville is quite a bit thicker than the Maurice Brassard.
I have recently made the switch to the 8/2, and find that I prefer the lighter yarn for weaving. Those are generally not available at the local craft stores, but might be found at a specialty weaving store, or you can find them online at WEBS (www.yarn.com) or The Woolery (www.woolery.com).
If you really want to up your weaving game or looking for something very luxurious for a special occasion or gift, you can't go wrong with SILK. Eowyn de Wever has been my go-to silk supplier, and she can be found at www.eowyndewever.com. The 60/2 is super fine…it's like weaving with sewing thread, and unless you're doing something with dozens of cards, this is probably not what you're looking for. The 20/2 is more like a fine crochet cotton and is what I would recommend for most silk weaving. She has some available in cones or in 100 yard spools which is enough for a single project.
The only other thing you need is something to hold the work. There are looms, like the inkle looms I use (I own both a Beka loom and a Schacht loom, as well as an unmarked homemade loom that I bought second hand); a box loom; backstrap weaving, or warp weighted weaving. There are pros and cons to each of those, and you will have to do the research to determine what is right for you. I will cover those on the next blog post.
Stay cool, my friends…it's a hot one out there! At least it has been here for the last week. 91 F (33 C). I know…it could be worse, but it's just exhausting when you don't have AC in the house. Definitely something we need to invest in.
Elewys